Sustainability management with Position Green
Position Green is a Swedish organization that provides a data-driven platform for sustainability reporting. The Position Green platform allows for data gathering, managing, analyzing, calculating, and reporting all in one place.
Full data traceability and overview
Automated data collection, calculation, visualization and reporting
Built-in standards and sustainability best practices
Additional products for supplier assessment and investment monitoring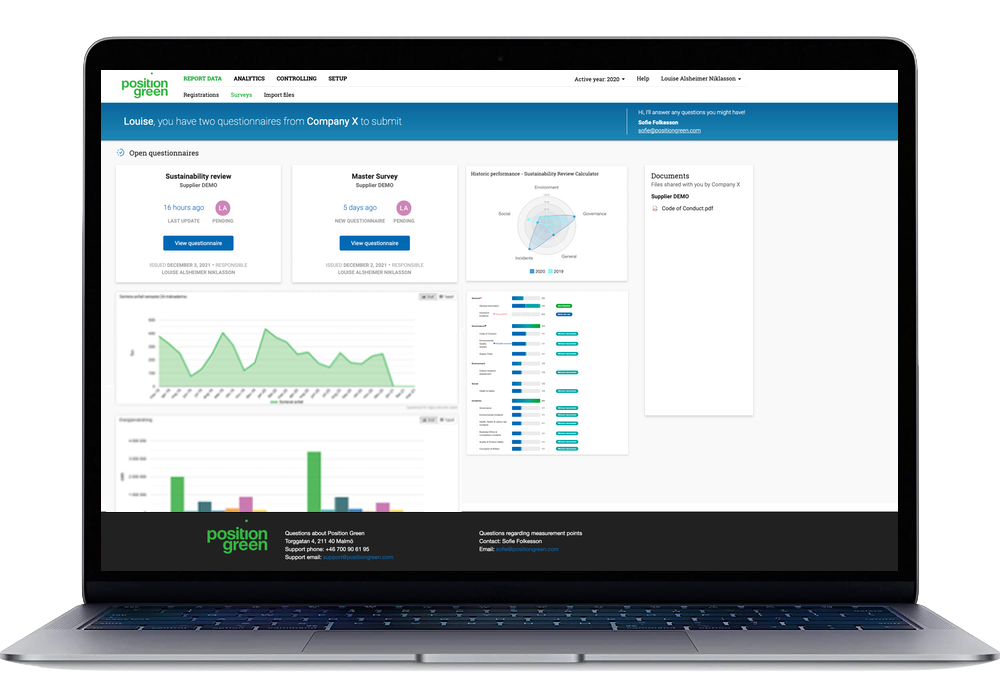 Position Green functionalities
Position Green supports manual and automated data import. Automatic calculations immediately convert reported data to requested formats. Visualize data in line with standardized models – or build tailored visualizations. The support of embedded emission factors convert reported data into relevant values to be aggregated and compared on all levels. Include KPI's relevant to internal and external stakeholders in dashboard and export selected data and visualizations in a report format on a need-to-know basis.
.
Internal sustainability reporting
Supplier assessment
Investment monitoring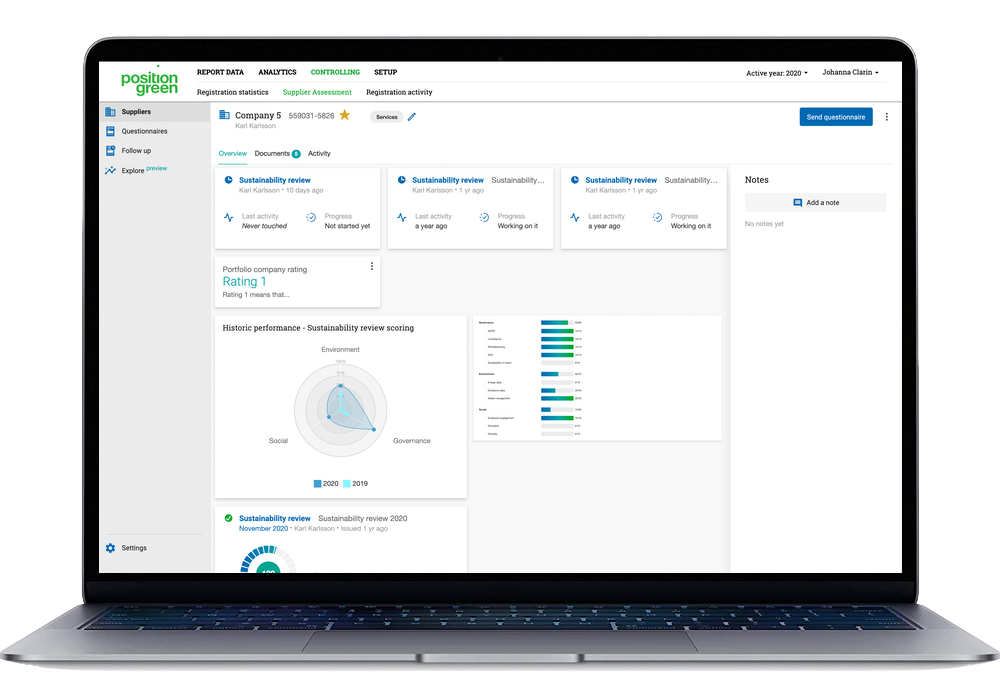 A streamlined data-driven approach
The sustainability management software of Position Green is a streamlined platform designed for traceability, efficiency, and consolidation, which helps unlock the power of sustainability data by gaining insights for decision making, ensuring compliance, and achieving proactivity.
Collect, analyze, calculate, and report sustainability data from internal sources, suppliers, and company holdings through a workflow that is transparent and traceable. By consolidating all sustainability data on the same platform, Position Green enables a proactive sustainability approach.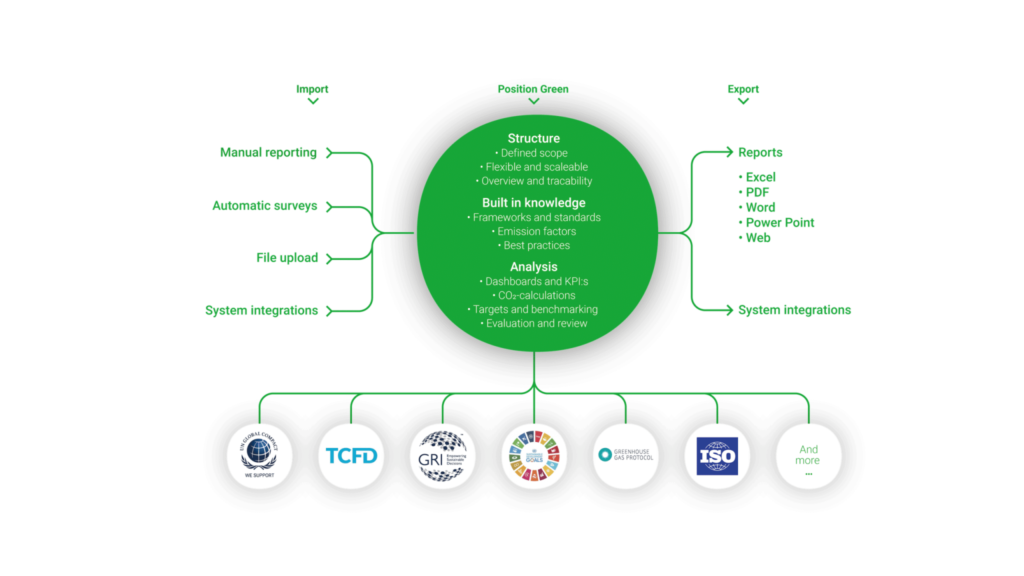 Is Position Green the right solution for you?
As with all sustainability management software, there needs to be a match between your organization's needs and the software. We have gathered some specifications so you know if Position Green is the right sustainability management software for you.
.
You want to assign different roles to different kinds of users in terms of responsibility
You need manual as well as automated data import
You want/need to report in accordance to a framework (such as CSRD, EU taxonomy, GRI, GHG protocol, etc.)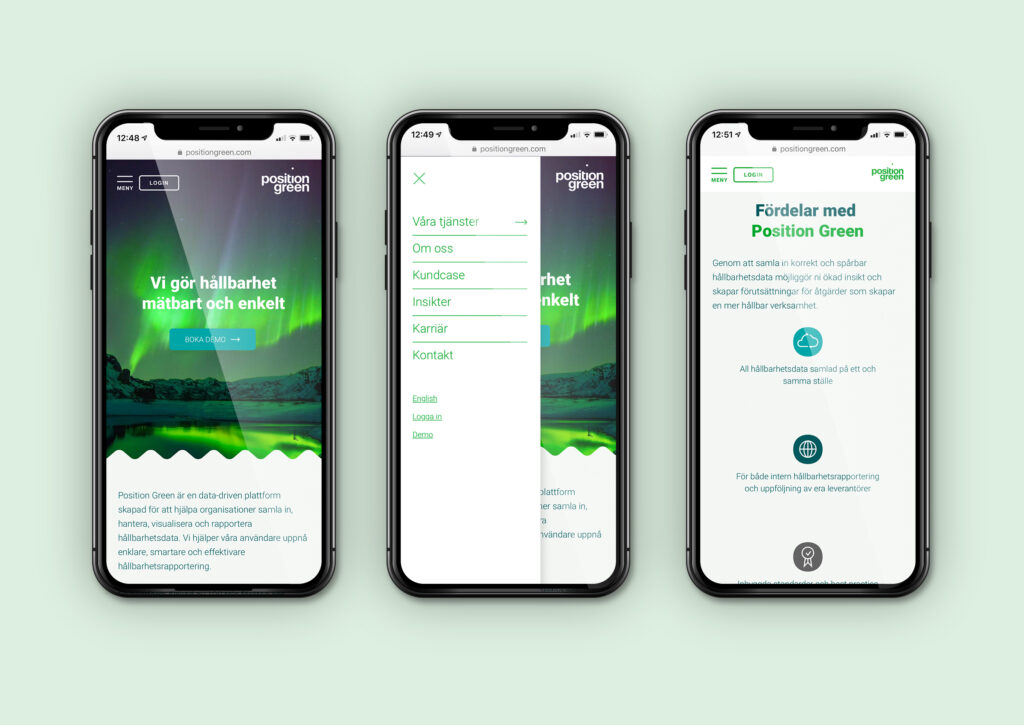 Position Green & Intire
We found that Position Green fits our client's needs and stood out from the crowd in several aspects. The platform is very flexible, can handle leading reporting standards and frameworks, has excellent integration function, as well as insightful visualization and reporting capabilities. We believe that this partnership allows us to provide a 360-degree service offering to our clients in sustainability and integrated reporting.
Moreover, Position Green understands the value of support. That's why they always work with sustainability advisors throughout the onboarding process and implementation of the software. The collective knowledge and expertise of Intire are translated into Position Green's features and built-in best practices. Together, we make sure you get the most out of your sustainability management software.
.
What can Position Green do for you?
Are you curious about how Position Green can help as your sustainability management software? Don't hesitate to contact us to discuss the possibilities with one of our experts or request a vendor demo!
Contact one of our experts
Wesley brings great IR expertise to the table, having co-authored the IIRC CFO and CIO paper. With a strong passion for innovation and customer relations, he's your man to make your project work. Just reach out to him: