ESG solutions with Beezzz
Beezzz is a Dutch innovator that leverages the Microsoft platform in their ESG solution. It consists of an integrated platform that can be implemented using a modular approach.
Supports data collection, calculation, auditing and reporting
Actual, planning, and forecasting
Covers the whole ESG suite
Easy roll out and user acceptance
Fully integrated with your Microsoft landscape
Transparent and attractive pricing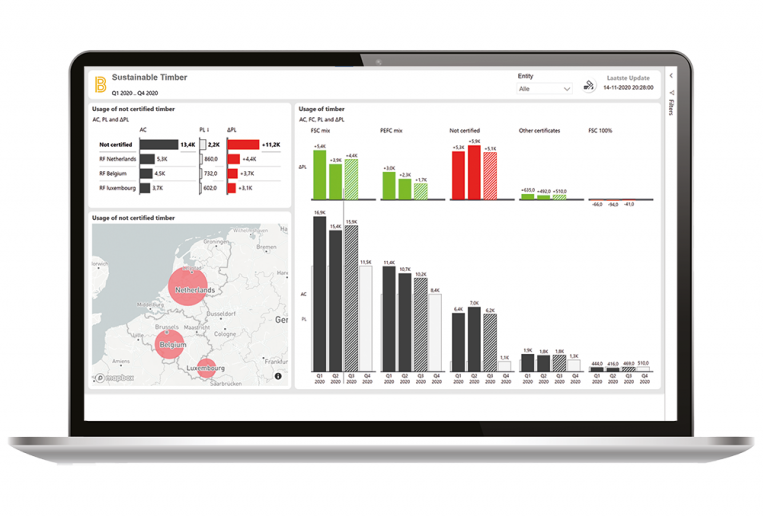 Beezzz as your sustainability management software
Beezzz is a sustainability management software solution that makes sustainability a manageable and measurable process by collecting, analyzing, and reporting your sustainability data. It is powered by PowerApps, leverages PowerBI for dashboarding, and SQL server service for the data model. These proven technologies combined make for a user-friendly interface that supports analysis on all sustainability aspects, including emissions, waste, use of natural resources, social (e.g., diversity & inclusion), and community engagement.
Improve data quality;
Engage your colleagues;
Adapt to new regulations;
Leverage existing investments in technology;
Discover new insights;
Lead your organization towards sustainability!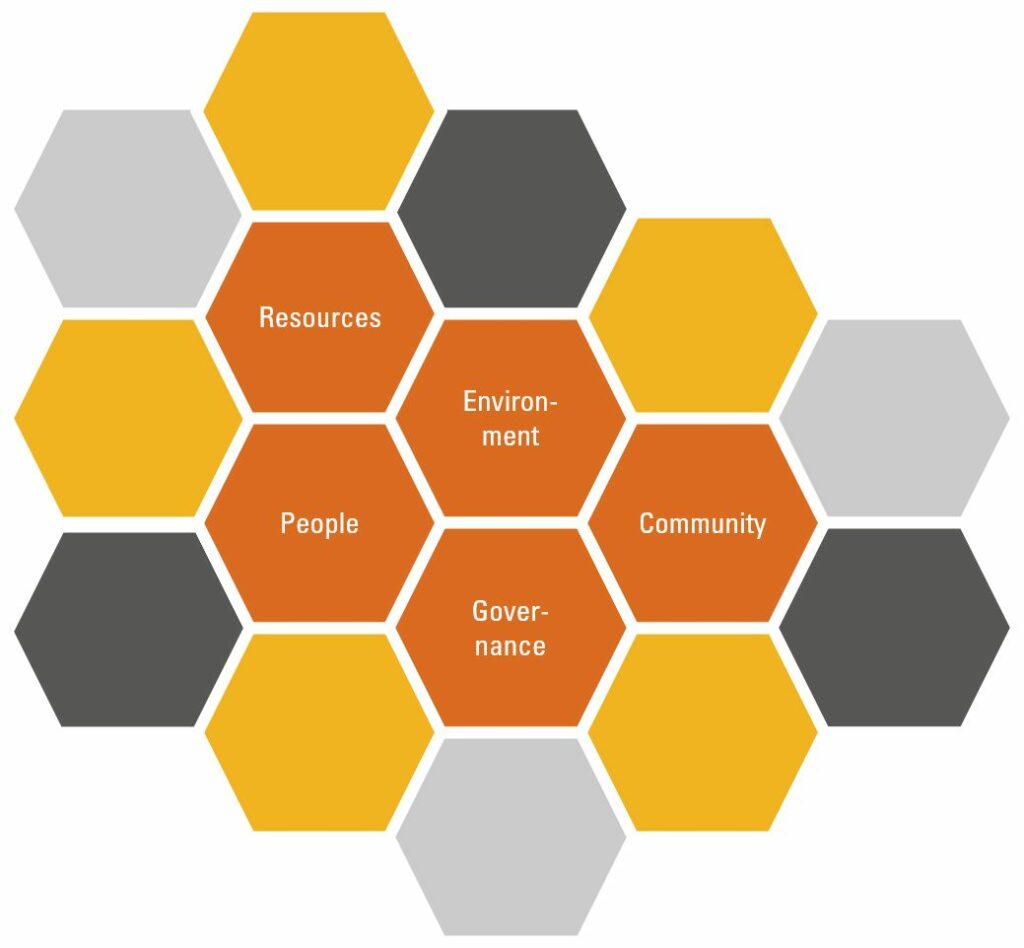 Report on all sustainability aspects
Beezzz supports your sustainability management in five different modules.
Environment
People
Governance
Community
Resources.
By working with different modules, all aspects of sustainability are incorporated. Moreover, it brings the right facts to the table. You can enter data manually through surveys or connect to existing data sources. Business rules will also validate data in all steps of the process so data quality is guaranteed.
Beezzz uses predefined dashboards, but also allows you to simply design your dashboards through PowerBI so you can easily analyze your data. Hence, it's possible to analyze your sustainability performance on either high-level trends, the lowest level of detail, or anything in between.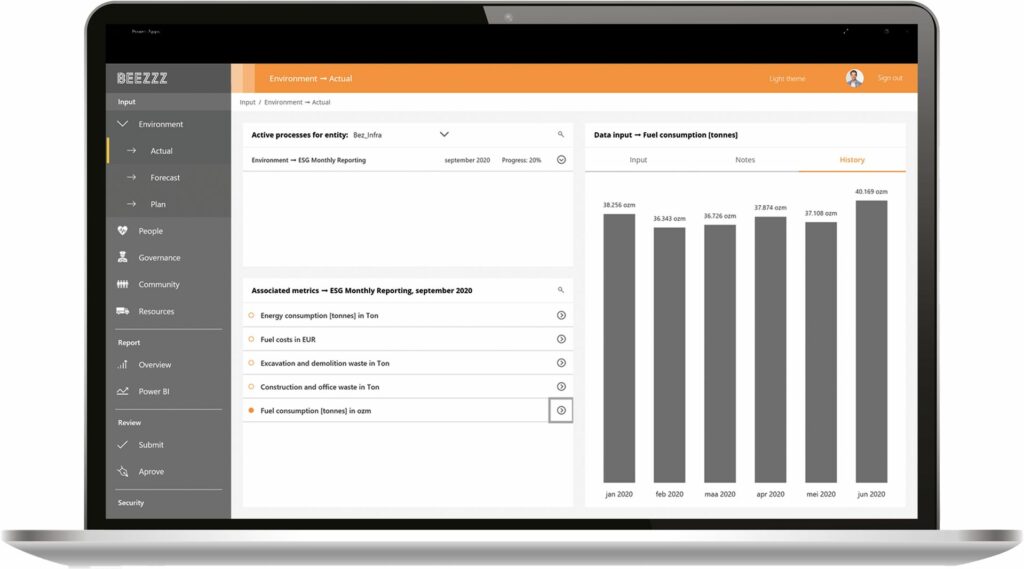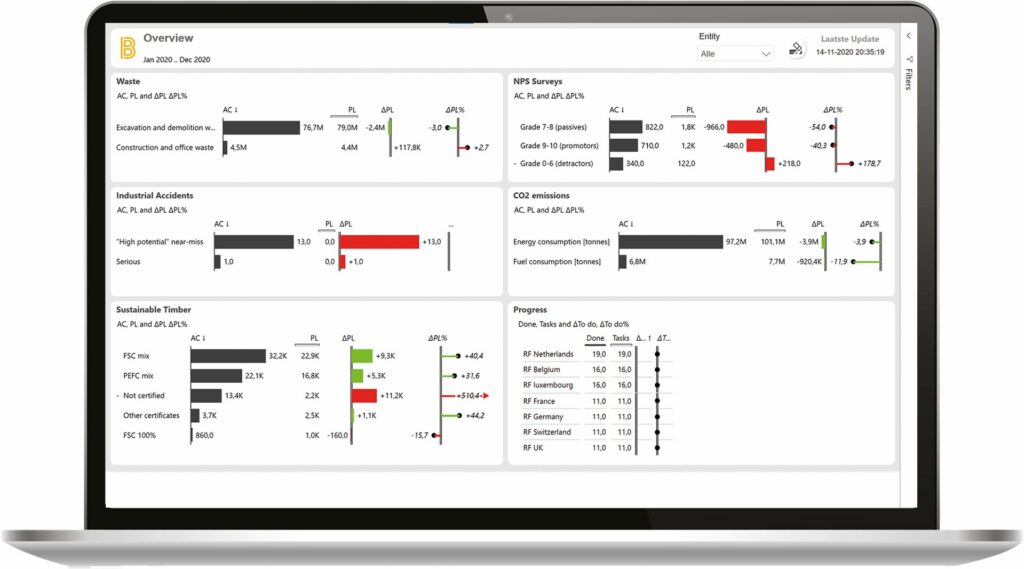 Is Beezzz the right solution for you?
As with all sustainability management software, there needs to be a match between your organization's needs and the software. We have gathered some specifications so you know if Beezzz is the right sustainability management software solution for you.
.
Your organization already uses Microsoft360
Your team has experience in PowerBI
You want to implement, measure, and manage your organization's sustainable development!
Beezzz & Intire
Intire can help you best in the implementation of Beezzz because of our expertise in the software. Beezzz is a continuously improving and adapting software. Each quarter, a new, improved version is released. Intire has partnered with Beezzz from the very first project and is their preferred partner for implementation. Hence, Intire knows best how Beezzz can be successfully implemented to experience the most benefit of the software. All together, Beezzz and Intire are the perfect solution to take your sustainability management to the next level.
.
.
What can Beezzz do for you?
Are you curious about what Beezzz can do for your company's sustainability reporting process? Don't hesitate to contact us to discuss the possibilities with one of our experts or request a vendor demo!
Contact one of our experts
Wietse brings about fifteen years of technology experience to the team. Able to translate business requirements in high-performing intuitive applications, Wietse delivers the efficiency gains automation is all about. Just let him know what you need!